Brian Kish is an expert in Italian 20th Century design. He has organized the first exhibition on Gio Ponti in the US. Brian Kish offers objects and furniture by the most famous Italian Architects of the 20th century.
SELECTED PRESS
Brian Kish Inc. has been interviewed in a feature article in the following publications:
Absolute (discontinued)
Traditional Home
Brian Kish Inc has been credited in:
---
The New York Times: A MIRROR OF SURPRISE
By Eve M. Kahn
http://www.nytimes.com/2014/03/21/arts/design/shaker-artifacts-are-on-the-move.html
An investment of a few thousand dollars has turned a Manhattan antiques shop into a design pilgrimage spot.
At the dealer R. Louis Bofferding's store on Lexington Avenue, light bulbs and glass starfish and seaweed protrude from a 1920s mirror that turned up in 2012, labeled simply "Murano Neoclassical Style," at a Doyle New York auction. Mr. Bofferding paid about $1,500 for it and a few thousand more to restore it, and spent numerous hours trying to identify its designer and maker.
At the Doyle preview, Mr. Bofferding recognized the mirror from an old black-and-white photo he had seen in a catalog of works by the Venini factory on the island of Murano near Venice. He had long wondered if the piece still existed.
"To use the word obsessed is not overplaying it," he said in an interview, while basking in the mirror's glow.
Books and journals from the 1920s prove that the Italian architect Gio Ponti designed the mirror for the 1928 pavilion at the Venice Biennale. Three matching mirrors hung in Ponti's domed rotunda gallery there, but no others have re-emerged yet. It is not clear how the Doyle lot left Italy, although Venini did have a Manhattan distributor in the 1920s.
A few fronds were broken or lost, and Mr. Bofferding had them restored at Pier Glass in Brooklyn. Flooding there from Hurricane Sandy left the mirror unharmed.
Scholars have examined the Biennale survivor, which is now priced in the low six figures. "It was an incredible, incredible find," Jared Goss, a former curator at the Metropolitan Museum of Art, said in an interview.
Brian Kish, a Manhattan dealer and historian who works with the Gio Ponti Archives in Milan, wrote in an email that the archives will soon register the mirror, "with updated photographs as well as the new location and owner."
---
The Art Newspaper 2009: Modernism and Art20 fairs combine
By Brook Mason
http://www.theartnewspaper.com/articles/Modernism-and-Art-fairs-combine/19795
Joint event was well attended but dealers report patchy sales
NEW YORK. Fair organiser Sanford Smith combined his 24th Modernism fair with the eighth edition of his Art20 held at the Park Avenue Armory from 13-16 November. The hybrid fair was well attended, but dealers reported patchy sales. Overall attendance totalled 6,800, up on the separate Modernism and Art20 fairs last year which drew 5,500 and 4,700 respectively.
"I applaud putting together the two fairs as I've seen more serious collectors, including Whitney Museum board members," said Manhattan art dealer Bernard Goldberg who reported a reserve on a Gustav Stickley 1905 desk for $60,000.
"I sold a Carlo Scarpa 1938 glass vase for $12,000 to architect Lee Mindel, and other examples are going out on approval, so sales look like they will happen," said design dealer Brian Kish who also reported two reserves on a Carlo Scarpa 1938 glass chandelier for $24,000, holds on a Guglielmo Ulrich 1936 pear-wood table for $16,000 and a Pierluigi Colli 1934 oak credenza for $22,000.
---
The New York Times: The Chair That Took Flight And Never Came Down
By Elaine Louie
http://www.nytimes.com/2001/04/12/garden/currents-exhibition-the-chair-that-took-flight-and-never-came-down.html
Gio Ponti, the man with the trench coat thrown over his shoulders in the 1957 photograph above, was testing a product: tossing the six-pound Superleggera (featherweight) chair into the air at Cassina's headquarters in Meda, Italy, to demonstrate its lightness and strength. It landed in one piece, and has remained in production ever since. It is $925 at Cassina, 155 East 56th Street; (800) 770-3568.
Ponti, inset top, was an Italian architect who founded Domus, the architecture magazine, in 1928 and designed the Pirelli Tower in Milan in 1956 and the Denver Art Museum in 1972, as well as products for the home. (He died in 1979.) A beautifully designed exhibition of his furniture, glassware and ceramics, "Gio Ponti: A Metaphysical World," is at the Queens Museum of Art. And his 1939 embroidered silk fabric called "The Lovers at the Window," seen in the background, is being reissued. "It's poetic," said Brian Kish, the show's curator. "There's something deeply human about the design." $135 a yard at Moss, 146-150 Greene Street (Houston Street), starting in June; (212) 226-2190.
Ponti also designed costumes and churches. "He always evolved his form, and everything is movement," Mr. Kish said. "His design is not static." The exhibition runs through May 20 at the museum; (718) 592-9700. ELAINE LOUIE
---
Art+Auction, April 2013: Ecco! Take a Look at Italian Design!
By William L. Hamilton
[ DOWNLOAD PDF & READ FULL ARTICLE ]
Long fixated on France, America, and Scandinavia,
20th-century design collectors today are now giving
well-deserved attention to Italy By William L. Hamilton
Excerpt:
The most useful development in the secondary market
for Italian design has been the emergence of a template
for collecting. During the past 10 years, the field has come
to be divided into three periods: the 1930s through the
1950s, with material usually created as custom commissions
for private clients; the 1960s and 1970s, the heyday
of international recognition and designer–manufacturer
collaborations; and the late 1970s through the 1980s,
commonly called the postmodern period.

According to specialists Ugo Alfano Casati, owner of
Casati Gallery, in Chicago, and Brian Kish, a New York
dealer, the relative rarity of values from the early period and
the perception that prices will hold have attracted serious
collectors to the 20th-century Italian arena. The aesthetic
during these years ranges from the rationalist designs of
Ponti, Terragni, and Franco Albini to the anthropomorphic
work of Mollino and Ico and Luisa Parisi.

James Zemaitis, senior vice president for 20th-century
design at Sotheby's New York, says "the sweet spots are early
prewar and early postwar." The Italian government seems to
be in agreement. Last October, Christie's London was forced
to cancel the sale of an important group of furniture created
by Mollino in 1953 for an Alpine villa he had designed. Italian
authorities—perhaps impressed by Christie's marketing of
the material as "unique"—withdrew the export license on the
eve of the auction. Since much of the prime material remains
in the country, recognition of Italian design at the high end of
the market could, paradoxically, be a potential problem for it.

Simon Andrews, international specialist for 20th-century
decorative arts and design at Christie's, believes the savvy
collector will start to look at material from the middle period.
"I'm certain interest will shift to the 1960s and the first half
of the 1970s," Andrews says, citing designers like Sottsass,
who began working in the late 1940s…
---
Art+Auction September / October 2001: The New Tastemakers
By Cara Greenberg
Portraits by John Patrick Naughton
Symbolist painting is of course familiar, but have you heard about Symbolist pottery? And Art Deco, certainly, but how about Japanese Deco? Elegant modern silver that isn't by Georg Jensen? Or, for that matter, high-style midcentury design that doesn't come from Scandinavia, France or the U.S.? The new generation of decorative arts dealers is passionate about bringing fresh inspiration to collectors for whom the beaten path is too well-trodden. Leading the charge away from overexposed fields, they are ferreting out the unusual and the rarely seen and quietly transforming the decorative arts market.
---
BRIAN KISH
Midcentury Milanese Architects' Furniture
WHILE WORKING TOWARD A DEGREE IN 16TH-century art and architecture at London's Courtauld Institute in the 1970′s, Brian Kish took periodic trips to Italy that "had an obligatory checklist: the work of the Mannerist architect Alessi in Milan, the Palladian villas, the Michelangelos in Rome." But by the time he graduated, in 1982, his tastes had undergone a radical shift.
The son of an American diplomat, Kish had begun working at DM Gallery in London, which was furnished with Castiglioni lamps, a Tobia Scarpa leather sofa and an Olivetti desk set. "That was ground zero of my interest in high-style Milanese contemporary design," he says. Sent to see the fabled collector Giuseppe Panza in Milan, he was intrigued by two controversial buildings: Gio Ponti's 1956 Pirelli Tower, and the 1958 Torre Velasca by the firm BBPR, with its flying buttresses and fortresslike bulk that Kish describes as "a response to medieval and Renaissance influences." The structures, along with Milan's subway system&emdash;a prescient icon of high-tech,with rubber floors and graphic blocks of color, designed in 1962-1964 by Franco Albini&emdash;"really got me started on my Milanese investigation," he says.
Kish, now 45, dealt privately in contemporary art in New York and London for two decades, until his "investigation" led him to open his low-profile gallery at 27 Greene Street in Manhattan. Tiny at 400 square feet when it opened two years ago, the space is undergoing renovations that will triple its size by October. It is stocked with furnishings and lighting by mid-century Milanese architects&emdash;primarily Ponti, the versatile genius who worked in every medium from graphics to furniture to architecture to tableware; the underrated Albini; and others who boldy styled rationalist designs came out of a radical intellectual postwar culture in which, as Kish puts it, "everyone realized Bauhaus was dead."
This material is rarely seen elsewhere in the U.S. Ponti's shallow-seated leather Gabriella chair ($4,500), made in 1971, has been called his "last little masterpiece." It is a revelation, as is his pressed-glass and steel Pirellione lamp ($6,500), created in 1967 for Fontana Arte, and his 1968 lamp for Guzzini, with four white plastic cylinders mounted on a clear acrylic arch ($5,000). A spectacular mahogany desk ($45,000), made for an Alfa Romeo showroom in 1961, was the centerpiece of "Gio Ponti: A Metaphysical World," an exhibition curated by Kish at the Queens Museum of Art in the spring.
The dealer sees Classical influences on the most startingly modern forms. He notes that the octagonal shape of a tea cart with V-shaped struts by Ico Parisi ($4,800) "goes back to the Renaissance," and that Albini's 1953 Fiorenza chair, upholstered in navy blue ($4,000), is "a take on an 18th-century bergère, brought into the 20th century with a vengeance."
He clearly enjoys the role of art historian. He'll describe a piece as having "a contextual regionalism, reexpressed with new materials and new possibilities," and in the next moment, he is simply an enthusiast, gushing over a work's exquisite design. Even the hassle of arranging transport from Italy for such fragile and bulky items as a six-foot-tall brass-and-glass lamp by Marco Zanuso for Kartell and a custom conference table designed in the mid-'60s by Albini is pure pleasure for Kish. So is the prospect of spending a week with his nose buried in the archives of Albini's firm (now inherited by the architect's son) and of the BBPR offices in Milan, as he plans to do this fall. "That," he says, "is what makes me happy."
Opposite: Brian Kish in his SoHo gallery with Gio Ponti's vintage 1950 Leggera chair, its seat and back in woven Cellophane. Behind him are Ponti's 1927 majolica vessel, based on an archaic form, and his 1970 multiuse wardrobe, from the Apta series. Ponti designs, from left: A 1971 Gabriella chair with chromed steel frame and black leather upholstery; one of two desks made in 1961 for an Alfa Romeo showroom; a small walnut side table for a hotel in Naples, from 1949.
[Transcribed for web by Steven Chu]
---
Design Auction Season That's Fit for the Brave
By Eve M. Kahn
http://www.nytimes.com/2008/12/26/arts/design/26anti.html?_r=0

One of the few stars at recent auctions: a 1949 custom side table by Carlo Mollino, which sold for $1.31 million at Christie's.
Thin cracks could be detected last week in the steely calm fronts that auctioneers put up during sales. Many hundreds of examples of 20th-century furniture came up for bidding at the winter design sales at four major New York auction houses before sparse crowds. Sometimes a dozen lots in a row did not sell or barely scraped past reserve prices (the minimum amounts agreed upon in advance by the sellers and the auction houses.)
When a cellphone went off somewhere in the subdued audience at Bonham's sale of 20th-century decorative arts on Wednesday, the auctioneer, Malcolm Barber, paused for a moment between slow-moving lots of Tiffany glass vases and bronze candlesticks and offered a glum joke: "That might be a bid; answer it."
And at the design sale at Phillips de Pury & Company, when some 1990s chairs by Ron Arad and Frank Gehry attracted little interest, the auctioneer, Brook Hazelton, impatiently tapped his shiny black heel along the edge of the podium platform while waiting for motion from paddles, hands or chins.
A little while later, as a 1950s oak table by Gio Ponti fell thousands of dollars short of its $10,000 to $12,000 estimate, he scanned a long line of co-workers staffing the telephone banks. "All those phones, no bids?" he asked.
Yet the auction houses still expressed relief that the results were not worse, and found some room for optimism, as did the dealers and collectors who depend on auctions to set public price standards.
"Obviously there were disappointments," said Alexander Payne, the worldwide director of the design department at Phillips, which realized $2.2 million from the sale, although 69 of the 172 objects offered did not sell; the auction's low estimate was some $3.7 million.
"Considering how much stress all the markets have been in," Mr. Payne added, "we fared reasonably well, with a very international buyer base."
The strongest-performing objects last week — that is, the few that caused bidding flurries and reached six-figure prices — came in three broad categories that have well-established collector bases and track records in the market: Tiffany lamps, early-1900s American metalwork and French and Italian furniture from the 1930s through the 1950s.
At a Sotheby's design sale that totaled $3.6 million, nearly one-quarter of the proceeds came from two century-old chunks of American iron: hammered andirons by Gustav Stickley and an elevator cage studded with spheres that the architects Louis Sullivan and Dankmar Adler had installed at the Chicago Stock Exchange. The purchaser of the cage, said James Zemaitis, the director of the 20th-century design department for Sotheby's in New York, "is a major West Coast institution making a commitment to 20th-century design, and renovating a wing for that purpose."
At Christie's, more than 40 percent of the $2.99 million realized at the 20th-century decorative art and design sale came from one lot: a 1949 side table by the Italian designer Carlo Mollino. The piece, which has two irregular sheets of glass mounted on an S-curve of maple plywood, was a custom design for the apartment of a nobleman in Turin, Italy.
Brian Kish, a dealer with a store in SoHo, paid $1.31 million for the table on behalf of a client he declined to identify. "It'll go into a New York loft that has several other Mollino pieces," Mr. Kish said. "It has great sinuous curves, a sculptural quality and exalted provenance, at a very friendly size." He attended the auction and did not mind being recognized while steadfastly bidding against a phone or two.
"I wanted to be there in person to suss out who else was in the room," he said. "And it was good to show support for the market, to make a public statement after all the downturns." Given that no other auction prices for design last week topped $740,000, he added, "I was the belle of the ball."
The architect Lee Mindel was also happy to raise paddles publicly last week. He sat in the back rows for hours at both Sotheby's and Christie's, occasionally looking up from his computer or cellphone to nod at the auctioneers. He spent hundreds of thousands of dollars on behalf of "many, many clients," he said.
"There's wonderful stuff available now for the brave," he continued. "You've got to grin and bear it, and go for those great values out there."
MONDO CANE
Walking sticks seem stripped of all their connotations of lame legs in "Vertical Art: The Enduring Beauty of Antique Canes and Walking Sticks" (Hudson Hills Press, $350). This 400-page slipcased photo essay by the Italian photographer Umberto Barone shows 377 canes that all belong to one California collector who remains anonymous in the book; the captions are by Roberta Maneker.
The canes, mostly made in Europe during the 18th and 19th centuries, range from folk art wooden poles carved with animal faces to Fabergé snakewood shafts topped in spheres of semiprecious stones inlaid with diamonds. Mr. Barone's photos only show the knobs, enlarged to saucer size and arranged in eerie tableaus amid smoke tendrils, water sprays, sand dunes and rose petals.
"Most books about canes out there have been meat-and-potatoes histories of canes through the ages," said Ronald Varney, a fine-art agent who orchestrated the book's publication for the collector. "This is meant to raise the profile of these fantastic, extraordinary objects, and not just be useful for the small niche of cane collectors."
The owner will match proceeds from sales of this extravagant volume with a donation to a charity in San Francisco, the Bonnie J. Addario Lung Cancer Foundation.
A version of this article appeared in print on December 26, 2008, on page C37 of the New York edition.
---
Sotheby's: Gio Ponti Conference Table
By Sotheby's
http://www.sothebys.com/app/live/lot/LotDetail.jsp?lot_id=159655013
LOT 379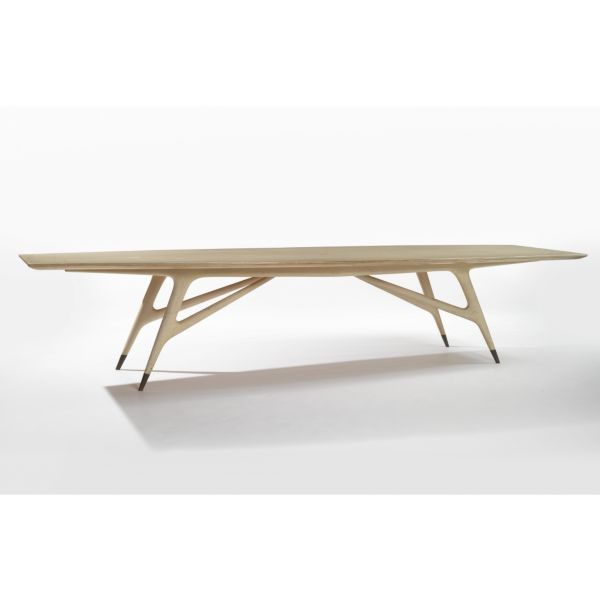 GIO PONTI
AN IMPORTANT AND UNIQUE CONFERENCE TABLE FROM THE EIGHTH FLOOR AUDITORIUM, TIME-LIFE BUILDING, NEW YORK
produced by M. Singer and Sons, New York
1959
painted wood and brass
70,000—90,000
USD
CATALOGUE NOTE
This lot is being sold with a certificate of authenticity from the Gio Ponti archives. Sotheby's would like to thank Brian Kish for his assistance in cataloguing this lot.
Gio Ponti was no stranger to New York, and the great Italian architect completed several commissions there. Following his 1955 interior of the Alitalia ticket offices in the Tishman Building, 666 Fifth Avenue, Ponti was retained in 1959 to construct a state-of-the-art conference center on the 8th floor of the Time-Life Building, 1271 Avenue of the Americas, designed by Wallace Harrison. A breathless critic in Architectural Forum raved "The many-angled Italian cabinetwork, in blond wood, is beyond the capacity of American mechanical civilization." In fact, the furniture used throughout the space was made by the New York-based Singer and Sons, who had been producing work by Ponti, Carlo Mollino, Ico Parisi and others since 1951. However, the more complex biomorphic forms by Singer were made for them in Italy, and the present table is probably one of these pieces. Ponti's auditorium was gutted and renovated in 1981.
---
Wikipedia: Gio Ponti
By Wikipedia
---
Rationalist Man
By Raul Barreneche
The Italian Rationalists are back, thanks to one passionate collector-turned-dealer with an eye for great modernist design.
Sure, the Scandinavian and American designers of the midcentury knew how to fill a room, but how many Eames chairs and Saarinen tables can a person own? Those with a taste for modernist furniture but not for conformity should turn to the Italians–and to Brian Kish, a sometime Londoner, current New Yorker and longtime Milan watcher. Kish owns a tiny, year-old eponymous gallery in Manhattan's SoHo that specializes in the work of Italian Rationalists, a band of forward-looking architects obsessed with clean lines who shook up Milan and the rest of the decorative-arts world from the Forties through the Sixties.
Before studying to be an art historian, Kish worked in a contemporary-art gallery in London, where the focus was on "all the latest from Milan," he says. He eventually moved to New York and spent almost a decade collecting and later dealing privately in midcentury Italian furniture before opening to the public last summer. All the pieces in the gallery were made by postwar Milanese designers, from the dining chairs, credenzas and coffee tables to the silverware, glass decanters and ceramic vases.
Many items, like the octagonal rosewood top of an exquisite tea cart designed by Ico Parisi in 1959, look a lot like Scandinavian objects of the same vintage, but the Italian pieces are more influenced by classical motifs. The octagon, Kish points out, was a favorite form in the Renaissance that was borrowed and adapted by many 20th-century designers. And although most modernists were trying to dispense with the past altogether, "much of Italian modernism," Kish says, "is about distorting classical forms."
Kish's most extensive holdings are by Gio Ponti, Milan's éminence grise (and the subject of Kish's next show, which opens in early November). In the 1920s and '30s, Ponti crafted bulbous ceramic vases as well as one made of bundled silver tubes that looks like a miniature of The Wizard of Oz's Emerald City. Ponti's ceramic plates from 1966 have the "super-graphic" look that Kish says "captures some of the chaos of the Sixties." Kish also owns stately walnut-framed armchairs that Ponti designed for the American manufacturer Singer in 1950 and a sleek, low-slung coffee table dating from 1960.
Among Kish's other favorites are boldly colored, striped Venini glass bowls from the craft-worshiping architect Carlo Scarpa; ceramic canisters and cylinders designed by a young Ettore Sottsass; and an oak dining table, a sleek rosewood credenza and a metal standing lamp from Franco Albini, whose work is probably the most sought after among all the Rationalists. And with good reason: Albini's designs reveal amazing craftsmanship. The oak dining table, for instance, is made of pie-shaped sections of polished, grainy oak that have been joined together with incredible precision.
Kish is confident that Italian Rationalist will be the next big design trend, but not as big as the current craze for midcentury Scandinavian and American pieces. "It won't be as popular, because there's not the same easy access to the products," he says. "Italian furniture wasn't as well distributed in the United States as Scandinavian was. Plus, in Italy, people are still living with these things, so they're not unloading them." And there aren't many places to buy them. "There are few big auctions or flea markets selling this stuff," Kish says, "so it's very difficult to acquire. I have sources in Italy who go to estate sales and report back to me." Then there's an elaborate, carefully controlled importing process to contend with. All of which limits the supply of Italian Rationalist pieces and, in turn, drives up prices. However, it's a fairly safe bet that prices aren't as high now as they will be soon.
(Brian Kish, 27 Greene St., New York City; 212-925-7850)
---
Rediscovering Gio Ponti
By Mark Van De Walle
http://www.departures.com/articles/rediscovering-gio-ponti
The father of modern Italian design finally gets his due.
Asked to pick a period that represents the high point of Gio Ponti's long career, architect and Harvard design professor Monica Ponce de Leon laughs. "You cannot," she says. "That's what is so incredible about Ponti—he is one of the very few designers and architects whose work was great from beginning to end." Such consistency was no small accomplishment. From the twenties to the seventies, Ponce de Leon points out, Ponti embodied every decade he worked in. "He managed to be totally fashionable and timeless," she says, "and maintain real integrity in his ideas and vocabulary."
In 1998 Ponce de Leon cocurated a show of Ponti's work at Harvard's Busch-Reisinger Museum, one of the first in the United States since the designer's death in 1979. At the time, Ponti was appreciated mainly by fellow designers and a few obsessive collectors. Now the rest of the world seems to be discovering the father of modern Italian design. Ponti exhibitions, like those at the Queens Museum of Art in New York in 2001 and the Design Museum in London in 2002, further piqued interest, and the market for his work, from every period and in every medium, is definitely heating up.
That trend was amply demonstrated in April, when Sotheby's in Milan auctioned off an important collection of Ponti pieces. Highlights included an urn created for the ceramics firm Richard-Ginori sometime after 1925, characterized by a beautiful mix of classical curves and sleek Art Deco lines. The decoration features stylized figures on a tiled plaza, surrounded by vases and architectural models on pedestals. You can already see hints of Ponti's signature diamond pattern as the tiles spiral to the top of the piece. One of only 30 urns the company produced in this design, it sold for $98,000. At the same sale, a circular burled-walnut coffee table with a diamond grid cutting across the center, made by Ponti in 1935, brought $45,500. Here, again, in the table's cross-hatch design, you can see the diamond motif that he would update throughout his career.
Chicago auctioneer Richard Wright, whose namesake firm specializes in 20th-century design, says the burgeoning interest in Ponti is only natural. "Whimsy and tough rationalism, the most important themes in modern Italian design, are absolutely embodied by his work," says Wright. He adds that he is seeing "contemporary art collectors, people who were never interested before, all buying Ponti."
If Ponti is just now gaining the recognition he deserves, it's certainly not because of a lack of productivity. In the twenties and thirties he not only designed the streamlined glass-and-metal Milan offices of Montecatini and worked as artistic director for Richard-Ginori but he also founded, edited, and wrote for the respected design magazine Domus. In the forties he designed costumes and sets for the opera and ballet, as well as gleaming chrome espressomakers for La Pavoni. He also started another magazine, Stile. After the war he helped rejuvenate Italian ship travel with a commission to outfit four ocean liners. In the fifties his collaborations with Piero Fornasetti resulted in a series of surreally beautiful residences in Milan, along with interiors for the ill-fated Andrea Doria, which sank in 1956. In addition he built one of the world's iconic skyscrapers, the Pirelli headquarters in Milan, and the Villa Planchart in Caracas, Venezuela, among the most exquisite houses of the modernist period.
These projects form only a sampling of Ponti's output. And there might have been more had his wife, Giulia, not rebelled when he brought a drafting table into their bedroom so he could continue working at night instead of wasting a rumored four hours sleeping. Somehow he found time to write, sketch, paint, and mentor an entire generation of designers and architects at the Milan Polytechnic.
Paradoxically, the scope, quality, and sheer volume of Ponti's designs may have been factors that slowed appreciation of his achievements. Zesty Meyers, co-owner of the New York design gallery R 20th Century, remarks, "Part of the problem has been that there's so much work—and at such a high level—that it's almost beyond comprehension. It has taken people years to start getting a handle on it."
The recent museum shows have served to advance scholarship and, in turn, ignite collector interest. Peter Loughrey, owner of Los Angeles Modern Auctions and himself a Ponti collector, says the market could begin to skyrocket now that "the same people willing to spend a million dollars on a piece by [Emile-Jacques] Ruhlmann are developing an interest in Ponti."
One point everyone agrees on: Ponti's unique pieces are the most coveted. They aren't easy to find, though. So what else to look for? His furniture and ceramics from the twenties and thirties combined neoclassical style, luxurious materials, and the finest craftsmanship. In the late forties and early fifties, he shifted between clean-lined modernism and funkier collaborations, creating furniture that shows the master at his peak.
While Ponti's prices are rising, his work remains relatively affordable in the red-hot modern design market, where seven-figure sums no longer seem far-fetched. In June, Christie's sold a table by Ponti's friend Carlo Mollino for a staggering $3.8 million. That result may be, as many believe, a case of auction fever. But there's no question: Ponti looks seriously undervalued by comparison.
Mass Appeal
One thing that distinguishes Ponti, says independent curator Marco Romanelli, is that he worked in two scales, devoting "the same passion" to designing for manufacturers as he did to his one-off custom pieces. Not surprisingly, mass-produced examples tend to be far less expensive than unique commissions. A vintage set of eight of the famed SUPERLEGGERA CHAIRS—which Cassina has made since 1957—recently sold for $12,500. And you can find Ponti's charming 1930 textile design I MOROSI ALLA FINESTRA, recently rereleased by Maharam fabrics, for $120 per yard.
Who to Know
BRIAN KISH Gallerist, New York; 212-925-7850; www.briankish.com
Which Ponti Do You Prefer?
The designer's career can be broken down more or less into distinct periods, each marked by an evolutionary leap in style. Unsurprisingly, everyone has a favorite. For New York dealer Fred Silberman, it's the PREWAR PERIOD. That was when Ponti blended NEOCLASSICAL MOTIFS—elongated figures on ceramics, details on furniture that echoed arches—with materials such as burled walnut and marble. At the top end of the market, a pair of walnut and mirror cabinets crafted for a private residence in 1929 went for $128,000 at Sotheby's April sale in Milan. To Los Angeles Modern Auctions director Peter Loughrey, Ponti's work from the FIFTIES is the strongest. "It was the first time in his career that he had clients who allowed him to do absolutely what he wanted," Loughrey says. During these years, Ponti took what he had done before and made it fresh. He used burled walnut to create SCULPTURAL FURNITURE and embellished some of his pieces with Piero Fornasetti's SURREALIST DESIGNS. One example, a custom headboard from 1950, brought $32,000 at a Wright auction in Chicago in 2003. Brian Kish, curator of the Queens Museum of Art retrospective and owner of the eponymous New York gallery, is most interested in pieces from the SIXTIES and SEVENTIES, when the designer turned to curved ORGANIC SHAPES and ABSTRACT PATTERNS. Observes Kish, "His work from this period has been widely overlooked."
---
Art Review | 'Modernism + Art20′ A One-Stop Eyeful of Mediums
By Roberta Smith
https://www.nytimes.com/2009/11/13/arts/design/13modernism.html
Which is better: a mediocre work of art or an outstanding design object? This question buzzes about Modernism + Art20, the new two-in-one art and design fair at the Park Avenue Armory through Monday. An answer never emerges, possibly because there really isn't one, and therein lies some of the fun of this hybrid show.
As the title suggests, this event combines Modernism, the venerable design fair that has convened annually at the armory since 1985, with Art20, a fair of 20th-century art also held there since its inception in 2002. Their union reflects another contraction brought on by the changed economic climate.
This may be to our advantage. "Art Meets Design" is the tag line, and though art and design have had met regularly in all kinds of fairs for years now, they do so with a particular clarity here. For the most part, stands devoted to painting and sculpture alternate with others dominated by furniture and decorative objects. Although the resulting mashup includes some extremely vapid or simply inappropriate offerings (bad contemporary realism and vintage clothing, for example), this arrangement definitely staves off the monotony that can afflict any fair.
[...]
Although postwar modern is in the majority, Art Deco holds sway at Moderne's stand, exemplified by a 1930 cabinet in burl elm with chunky ivory mountings by Louis Neiss. Leroux has an appealing pair of small cabinets, also Deco, partly covered in parchment. Brian Kish has a lavish stained oak and leather credenza from 1934 by Pier Luigi Colli. At J. Lohmann a tea set by Werner Gothein has the lines and mottled burnt orange glaze of postwar design though it is from 1927. Martin Cohen, a first-time participant, backs up a bit more with a marvelous display of chairs by Louis Comfort Tiffany, Lockwood de Forest and Herter Brothers.
Modernism + Art20 is at the Park Avenue Armory, 643 Park Avenue, at 67th Street, on Friday from noon to 8 p.m.; Saturday and Sunday from noon to 7 p.m.; and Monday from noon to 5 p.m. Admission is $20 a day or $30 for a two-day pass; (212) 777-5218 or sanfordsmith.com.
---
For the Moment | Felix Burrichter Plays House
By Felix Burrichter
http://tmagazine.blogs.nytimes.com/2008/05/15/for-the-moment-felix-burrichter-plays-house/

(Photo: Kenneth Pietrobono)
This week's guest blogger is Felix Burrichter, a New York-based architect. Burrichter, who was born in Germany, is also the founder and editor of PIN-UP, an independent biannual magazine launched in the fall of 2006, whose unlikely editorial foundations are architecture and sex. To read all of Felix Burrichter's previous blog posts, click here.
Buying furniture is a very personal affair — perhaps not as momentous as buying a house, but more significant than, say, buying a cute new summer outfit, and can thus be far more difficult. Given that the 20th International Contemporary Furniture Fair in New York kicks off this weekend, I thought it would be fitting to share five of my favorite furniture and design stores or galleries in the city.
[...]
Brian Kish
Brian Kish's very personal gallery space specializes mostly in furniture designs by Italian architects from the 1930s to the 1970s. With his academic credentials (and international accent) attained at the venerable Courtauld Institute of Art, the pedigreed Kish takes an architecture historian's approach to his collection and is known to have a hard time letting go of some pieces. His current favorites are a marble table by Ico Parisi (no known relation to Heather) and a pendant lamp by Carlo Scarpa, an architect I admire who also designed the beautiful Brion-Vega cemetery near Treviso, in Italy. Below is a clip from a 1971 TV special with Carlo Scarpa, in which he explains his design for the cemetery to the Italian journalist Maurizio Cascavilla (sorry, no subtitles —but it's beautiful to watch nonetheless).
Bench from the Perished Collection, by Studio Job.
---
Art in Review
By Roberta Smith
---
Mid-Century Italian Design
By Debra Pickrel
Posted May 18, 2003
The Metropolis team was lured across the street from USM by the Gio Ponti chair in Brian Kish's gallery. "The collection is Italian mid-century, but by Milanese architects. We offer an edited version of the most significant forms and types," Kish says.

Zahid Sardar, Design Editor of The San Francisco Chronicle. Best in show? "Component pieces that assemble and disassemble like clothes."
Photo by Jennifer Calais Smith

A pair of Artemide lamps from 1961.
Photo by Jennifer Calais Smith

Brian Kish shows off a 1963 Kartell lamp from London…"It has a plastic shade."
Photo by Jennifer Calais Smith

1946 chandelier by Gio Ponti.
Photo by Jennifer Calais Smith

Brian as the showroom's best accessory.
Photo by Jennifer Calais Smith

Brian discusses a 1951 "bridge chair" by Marcus Zanuso with Susan Szenasy, Metropolis's Editor in Chief.
Photo by Jennifer Calais Smith

What to covet…all of it!
Photo by Jennifer Calais Smith
---
Metropolis Mag: A Masterful Effort
By Melanie Ryan
http://www.metropolismag.com/October-2008/A-Masterful-Effort/
"The Luisa is one of the great chairs of the twentieth century," says Brian Kish, a New York–based dealer who specializes in modern Italian furniture. Franco Albini's 1949 design is one of four that Cassina will reissue this fall as part of its Cassina I Maestri collection. For Kish, the choices represent "Milanese intelligence and refinement at its very best."
Working with the Fondazione Franco Albini, directed by the late designer's son Marco, Cassina has faithfully reproduced the Luisa (which won a Compasso d'Oro prize in 1955), the Cavalletto (shown) and Cicognino tables (designed in 1950 and 1953, respectively), and the Infinito bookcase (1957). According to Demetrio Apol­loni, Cassina's general manager, representatives from the foundation visited the Meda factory every week to ensure loyalty to the originals. Though Albini's expressive postwar style made him an icon in Italy, he has been somewhat overlooked in the United States. Now, 50 years after their original release, his pragmatic yet poetic shapes can be ap­pre­ciated by a new audience. "Good design lasts forever," Kish says. "These pieces will never age."